---
Insomnia Review
First created | 05/12/2009
Last edited |
Ohayon MM. Epidemiology of insomnia: what we know and what we still need to learn. Sleep Med Rev. 2002 Apr;6(2):97-111.
Ohayon MM. Insomnia Review, Sleep Epidemiology Research Center, Palo Alto, 2001.
Ohayon MM. Insomnia Review, Sleep-Eval Website, 2002
---
IS INSOMNIA A PROBLEM OF:
Frequency?
Severity?
Chronicity?
WHAT MAY CAUSE INSOMNIA?
Mental disorder?
Sleep disorder?
Medical condition?
Age and gender?
Life style?
WHAT ARE THE CONSEQUENCES OF INSOMNIA?
Health
Mental disorders
Daytime functioning
WHAT IS INSOMNIA?
The epidemiological approach for measuring insomnia can be summarized by:
Dissatisfaction with QUANTITY of sleep
Dissatisfaction with QUALITY of sleep
CHRONICITY OF INSOMNIA SYMPTOMS
About 4% --> 1 month or less
About 6% --> between > 1 and < 6 months
About 5% --> between >= 6 and <12 months
About 85% --> 1 year or more
About 68% --> 5 years or more (Based upon data from Ohayon et al, 1996, 1997, 2001, 2002)
WHAT MAY CAUSE INSOMNIA?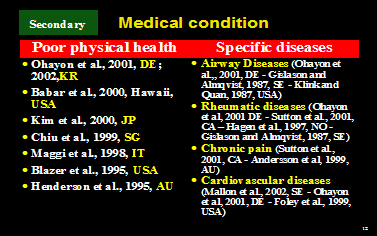 Content of this page is extracted from:
Ohayon MM. Conference, Sleep Epidemiology Center, Palo Alto, 2001.