Four age-related changes have been consistently demonstrated in polysomnographic (PSG) studies of sleep architecture:

- total sleep time (7-29),
- sleep efficiency (7,9-14,17-23,25-29,30-36), and
- slow wave sleep (7,8,10, 12-18, 21-28, 31,33, 35,37-39) all decrease, while
- wake after sleep onset (12-14,16,17,19,21,23,28,29, 32,33,36,37,40) increases with age.
Why such discrepancies between the studies?
Several factors may be responsible for the difficulties identifying age trends in sleep architecture of apparently healthy subjects. For example: small sample sizes; inconsistency in controlling factors that may influence sleep, such as mental or physical illness; insufficient screening for sleep disorders.
METHODS
TARGETED STUDIES
Non-clinical studies
Participants aged 5 to 18 years
measures of sleep characteristics by "all night" polysomography (PSG)
or measures of sleep-wake patterns obtained by questionnaires.
data presented numerically
published between 1960 and 2003 in peer-reviewed journals.
VARIABLES ANALYZED
Sleep latency (SL)
Sleep efficiency (SE)
Total sleep time (TST)
Stage 1,
stage 2,
slow wave sleep (SWS),
REM
REM latency
Minutes awake after sleep onset (WASO)
Bedtime & rising time
QUESTIONNAIRES
Number of studies: 21
Number of subjects: 24,617
Age range: 5-18 years
Data examined:

Bedtime,
rising time and
sleep duration for weekdays and weekends.

Europe versus USA
BEDTIME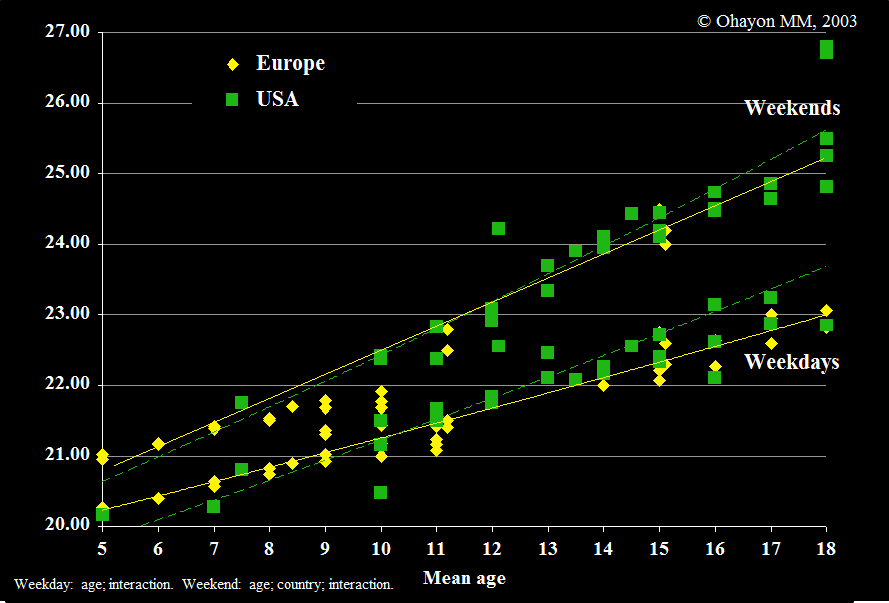 RISING TIME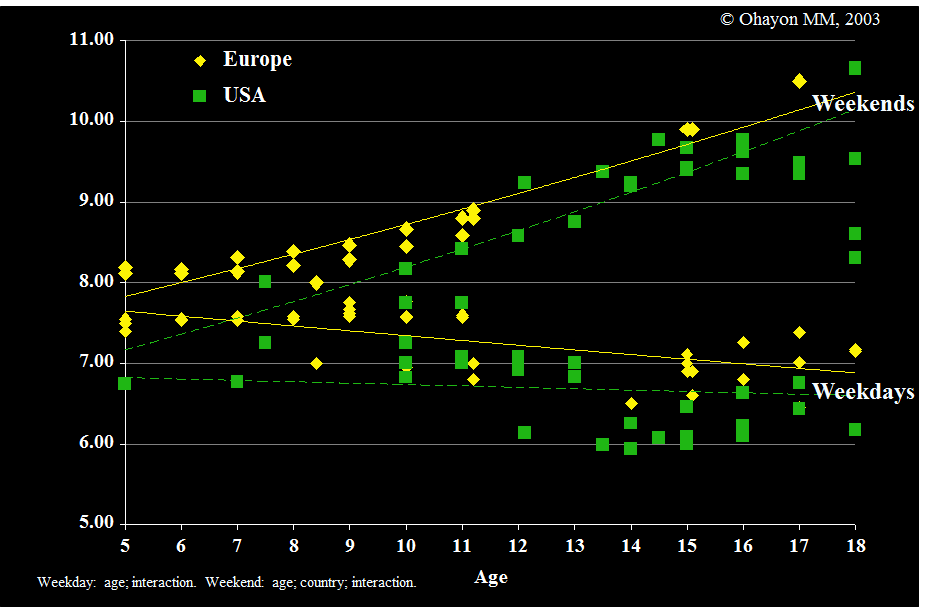 NIGHTTIME SLEEP DURATION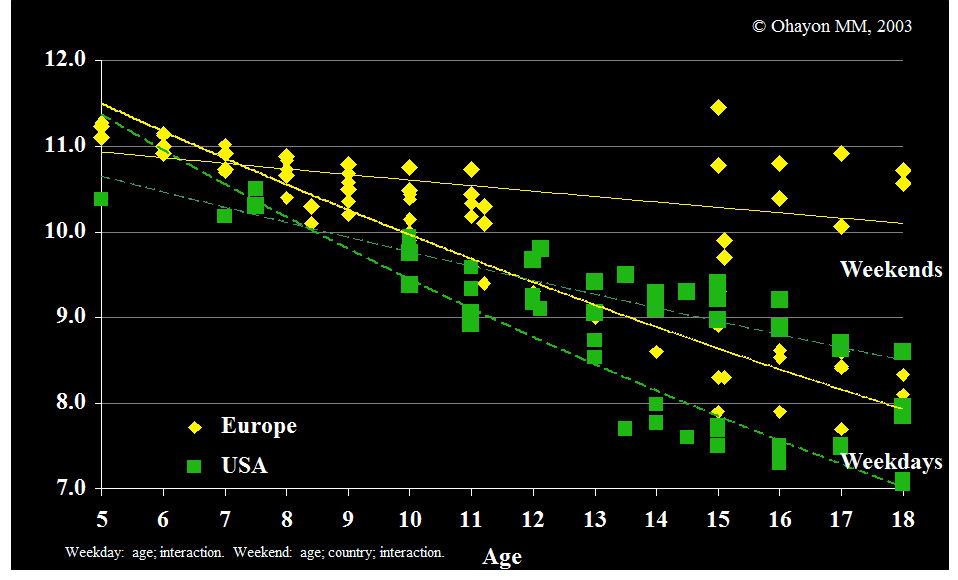 POLYSOMNOGRAPHY OR ACTIGRAPHY
Number of studies = 18
Number of subjects = 1,186 ¨Age range: 5-18 years
Variables examined: TST, SL, SE, WASO, REM, S1, S2, SWS
SIGNIFICANT CHANGES
TST
Percentage stage 2
Percentage SWS
Percentage REM
TOTAL SLEEP TIME
PERCENTAGE OF STAGE 2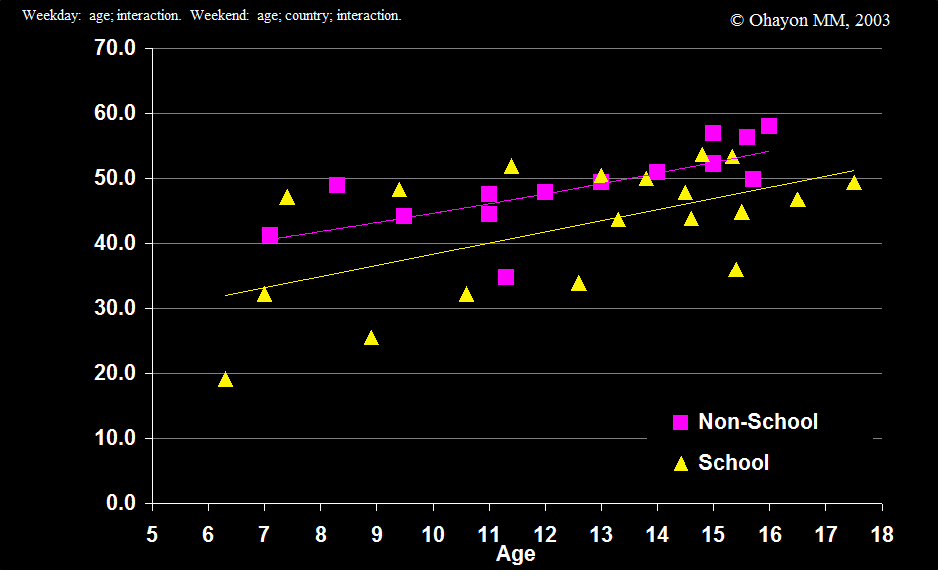 PERCENTAGE SWS
PERCENTAGE REM
Discussion
QUESTIONNAIRES
Age effects for weekdays and weekends
Bedtime,
rise time,
total sleep time
Country effects
Weekday rise time & TST,
weekend bedtime, rise time,
TST
Interaction effects
Weekday bedtime,
rise time,
TST
weekend bedtime & TST
European studies focused more on younger samples than did US studies.
Patterns across age were reasonably consistent.

Interactions likely reflect socio-cultural differences.
PSG
Significant age-related changes in:
TST,
Stage 2 Sleep,
SWS,
REM
Extremely large variability.
Methodology may contribute to differences.

Careful controls and protocols are needed.
CONCLUSION
Normative data can provide a framework for understanding changes with age across time.

Societal and cohort differences may emerge as well-controlled studies emerge.